Santa Support 2016!
On Sunday December 11, 2016 97 needy families received Santa supports at the Travis County Community Center at Oak Hill. There was face painting, crafts, and a visit from Santa for all the kids in attendance. The Oak Hill Rotary Club donated over 200 coats for people of all ages distributed at the event. The Travis County Sheriff's office sponsored 62 families through the Brown Santa program, led by Mary Rodriquez and her amazing team of volunteers. Brown Santa provides food and presents to Travis County residents in need at over six locations.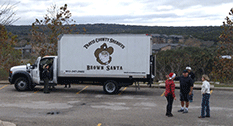 Additionally at Oak Hill, the SW Family Fellowship Church and their caring membership donated presents for 35 families with over 100 children who did not qualify for Brown or Blue Santa programs. The Travis County West Rural Advisory Committee provided HEB gift cards for a holiday dinner for the families not eligible for Brown Santa.
Volunteers included Oak Hill Rotary members, SW Family Fellowship members, Girl Scout Troop 1917, Constable Hernandez's office, the Sherriff's Department, and Transportation and Natural Resources Department, as well as HHS staff from our Center. A special thank you to Charles Stone from Constable Hernandez's office for making Santa's visit successful! We wish everyone Happy Holidays, Merry Christmas and a peaceful New Year in 2017!
2016 Back to School Bash
The 2016 Back to School Bash was a great success, providing Back to School Support to over 60 low income Travis County Families. Hosted and sponsored by the Southwest Family Fellowship (SWFF); the Back to School Bash provided fajita dinner for all, backpacks for students, and fun and informative activities for families identified by Travis County Health and Human Services & Veterans' Services Community Center at Oak Hill. With our community partners from A+ Federal Credit Union, Community Care clinics, and Constable Sally Hernandez's office we offered expanded services this year. Along with her team, Constable Hernandez set up a Child ID station and provided helpful information about child safety. The mobile health team from Community Care Oak Hill provided information about medical services, and youth school physicals for 13 students so they could participate in sports and other school activities. A+ Federal Credit Union provided information about financial literacy and helped students open savings accounts with an A+ sponsored opening deposit.
With the sponsorship of SWFF members, Whole Foods, Deep Eddy Vodka and the West Rural Travis County Advisory Committee 184 students in 57 families received personalized backpacks stuffed with new shoes, socks and underwear to start their school year. Donations from SWFF members and Bird's Barbershop provided haircut gift cards and discount cards for the students attending the event. Donations from Deep Eddy Vodka and SWFF members provided inflatable water slides and rides for the children to enjoy during the event. Families came for the back packs and school physicals and stayed to eat, have fun and enjoy the community fellowship.
We had incredible volunteer help from Oak Hill Rotary, SWFF members, Constable Hernandez's office and staff from the Travis County Community Center at Oak Hill. These volunteers treated each family with the dignity and respect they deserve and made each person feel like a valued member of our community. This year's event was a huge success, and we thank all our sponsors and volunteers!